DESIGN IDEA. Revered for its ability to combine a classic design with age-old symbolism, this silver double interlocking bracelet stands out as an ultimate reward for perpetual love. Not only is this heart bracelet a rich source of inspiration and deeply settled emotions but also an authentic piece of beauty built to signify strong and long-lasting bonds

♥

Metal & SPECIFICATIONS. Made from .925 sterling silver, and opal stone inside. this love bracelet features a sterling silver clasp that's easy to fit and secure for daily wear. Clearly, this piece of awesomeness is designed with every discerning owner in mind all thanks to its adjustable wrist (16.5cm+2.5cm) that is punctuated with two interlocking hearts symbolizing enduring love. For an added touch of class, this bracelet boasts white cubic zirconia which is both classy and eye-catching.
♥IDEAL GIFT CHOICE. Whether you want to gift your soul mate or close members of your family, nothing gives you a better gifting idea than this bracelet. Ideal for Mother's Day, Christmas Day, Valentine's Day, graduation, prom, birthday or during any other special occasions. Looking to send out a deep message of love? This might just be the piece of jewelry you need to make a long-lasting statement.
♥CARE. To get the most out of your silver jewelry it's imperative to take gentle care of it. Wipe using baby wipes to maintain its original allure. Rub with a clean dry soft cotton cloth to restore the shine. Wrap with a soft cloth or fabric swath and avoid placing it in contact with other jewelry. Take it off when showering, swimming or undertaking any activity involving contact with water.
This is a chart that will be extremely helpful for you to determine the ring size that you need. You can either make use of a tape or a small piece of string to measure the area that will be occupied by the ring. When it becomes a complete circle, make a mark on such string. This will be helpful for you to compare with the chart that is mentioned below.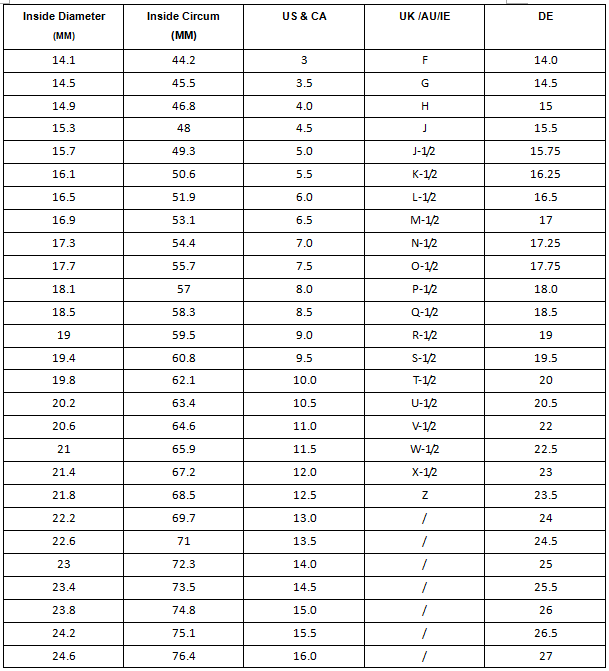 Tips
*Measure your finger in warm temperatures at the end of the day.
*If your knuckle is a lot larger than the base of your finger,measure both the base of your finger and your knuckle and select a size between the two.
*When considering a wide band, move up a size from your measurement, for comfort's sake.