STAMPED 925 STERLING SILVER – This high quality of tree of life pendant and chain is made from the finest sterling silver as indicated with 925 metal stamp. 925 sterling silver is made from 92.5% silver and 7.5% copper. The copper is added to stabilize the silver so that it can hold its beautiful shape.

NICKEL AND LEAD FREE – These beautiful pendant and necklace contain absolutely no nickel or lead, making them safe for people with nickel and lead allergies. Add this great of pendant and necklace to your jewelry collection and have peace of mind every time you wear them. Men or Women' Daily Jewelry and Gift for Your Important One.

PENDANT NECKLACE – This tree of life pendant size 29.21mm x 17.54mm(height including the bail) The pendant comes with the sterling silver snake chain 18 inches long, Spring ring clasp, You can wear this of endearing necklace with a pair of jeans or wear them with a fancy dress to add a girlish or female...

TREE OF LIFE DESIGN – The meaning tree of life as a spiritual symbol is well known and, like the tree itself, with its branches reaching into the sky, and roots deep in the earth, it dwells in three worlds- a link between heaven, the earth, and the underworld, uniting above and below. It is both a feminine symbol, bearing sustenance, and a masculine, visibly phallic symbol- another union.
This is a chart that will be extremely helpful for you to determine the ring size that you need. You can either make use of a tape or a small piece of string to measure the area that will be occupied by the ring. When it becomes a complete circle, make a mark on such string. This will be helpful for you to compare with the chart that is mentioned below.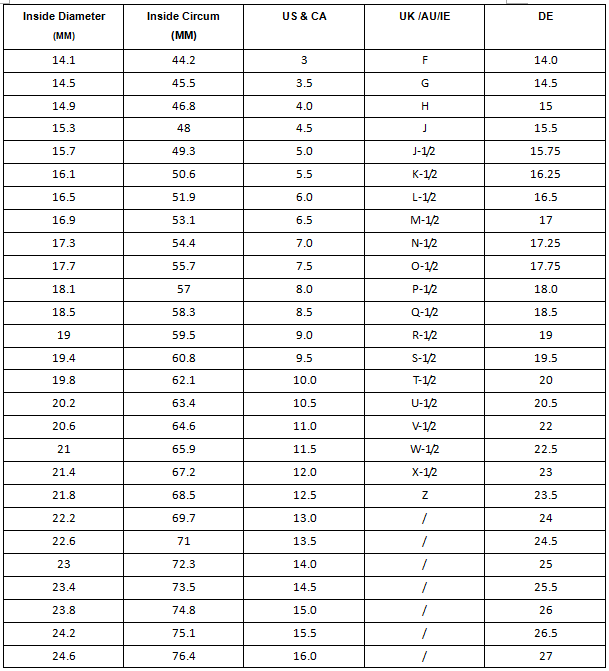 Tips
*Measure your finger in warm temperatures at the end of the day.
*If your knuckle is a lot larger than the base of your finger,measure both the base of your finger and your knuckle and select a size between the two.
*When considering a wide band, move up a size from your measurement, for comfort's sake.