♥Product Dimensions:40mm*9mm    Metal: 925 Sterling Silver


♥Ocean waves earrings - perfect for everyday wear or special occasions in ocean themed jewelry. If you are an ocean lover and enjoy the beach life, show your love for the lifestyle with this waves earrings. This beach style ocean wave earrings represents the ebb and flow of life, the beauty of nature, and the depth of the ocean.If you love the environment, keep the waves closeby. And if you wear other ocean themed jewelry together, you are the most beautiful one.

♥Best gift:Get this wave jewelry for women who love the beach and ocean life. Gift an ocean wave bracelet bangle to a marine biologist, a friend passionate about ocean life and conservation, a sister, or a bff. Great gift ideas - Marine biology gifts, Friends, BFF, Gift for sisters, Birthday, Gift for her, Mother's day, Bridesmaid Gift, Gift for best friend, Gift for girlfriend.
This is a chart that will be extremely helpful for you to determine the ring size that you need. You can either make use of a tape or a small piece of string to measure the area that will be occupied by the ring. When it becomes a complete circle, make a mark on such string. This will be helpful for you to compare with the chart that is mentioned below.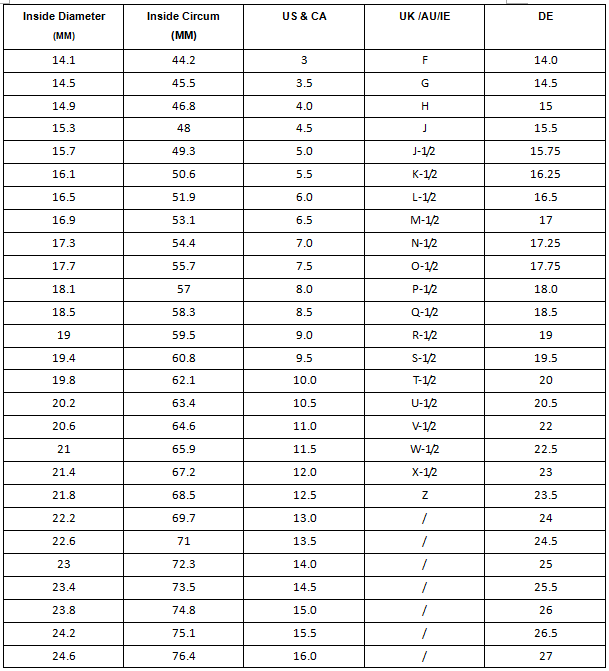 Tips
*Measure your finger in warm temperatures at the end of the day.
*If your knuckle is a lot larger than the base of your finger,measure both the base of your finger and your knuckle and select a size between the two.
*When considering a wide band, move up a size from your measurement, for comfort's sake.